| | |
| --- | --- |
| Industry Verticals » | Education |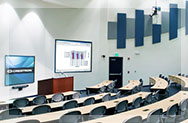 A key philosophy of education is to offer the best opportunities for learning to as many people as possible. Unfortunately, not all educational institutions or students are set up to experience all that the world has to teach them. The "learn, teach and measure" value chain that addresses students, teachers and parents is undergoing radical changes due to both technology innovation and government regulations. An ease of access to the Internet, popularization of smartphones, explosion of social networking and growth of online repositories have combined to open new avenues for content delivery in the form of eLearning. Educators are frequently tasked with making their curriculum more engaging, but often have limited resources to do so.
Intellicon's integrated solutions portfolio, partner ecosystem and depth of experience have uniquely positioned us to help our customers in the education segment achieve their goals and objectives.

Education Solutions
Automatic Data Capture
• Asset Tracking
• Student Tracking
• Canteen/Store Management through POS and Inventory Management System

Enterprise Communication
• Unified Communication & Collaboration
• Virtualization
• Mobility
• Convergence Solutions
• Unified Messaging
• Contact Centre
• Audio Bridge
• Meeting, Seminar & Conferencing
• Disaster Management
• Distant Learning
• Training

Security & Surveillance
• CCTV
• Access Control

System & AV integration
• Board Room Solution
• Class Room Automation
• Digital Signage