| | |
| --- | --- |
| Industry Verticals » | » Video - Health Care |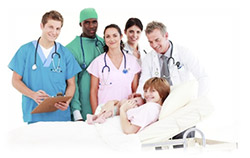 The global Healthcare Industry is undergoing a change with the focus firmly on improving the quality of healthcare delivered. There is an increased focus on an integrated healthcare ecosystem with collaboration between various stakeholders.
Healthcare professionals are rarely found at a desk, more often they are moving from one patient to another patient and collaborating with colleagues. Whilst there are difficulties in exchanging information in real time using a traditional ways that results to delays. Delays in responding to patient needs and accessing critical information can lead to stress for the patient, their relatives and staff.
Healthcare organisations can take advantage of innovative and latest capturing and communication technologies to support new ways of working and encourage cultural change. Intellicon offers comprehensive solutions enhancing operational efficiencies, removing bottlenecks and enabling great patience care with better ROI.