| | |
| --- | --- |
| Industry Verticals » | Government |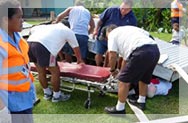 Today's economic climate is challenging central and local governments worldwide to deliver essential austerity measures that reduce sovereign debt levels, identify cost savings areas, implement staff efficiency, and drive greater productivity – all while ensuring data and information meet strict privacy and protection requirements. In India , government has a huge deployment in terms of IT and Telecommunication infrastructure which need replacement being quite old and probably not delivering results.
Government agencies have seen an increased need for improving and developing their information technology and communication landscapes. This is seen as a step to increase connectivity to the masses, simplify management of state/local resources and facilitate transparency. As a consequence of the financial crisis, there is great pressure to reduce cost of IT operations. Governments are hence looking at consolidation, virtualization, shared services, use of nonproprietary solutions and other cost-cutting actions to achieve this.

Government Solutions
Automatic Data Capture
• Asset Tracking
• Document Tracking
• Warehouse Management

Enterprise Communication
• Virtualization
• Mobility
• Unified Communication & Collaboration
• Convergence Solutions
• Unified Messaging
• Contact Centre
• Audio Bridge
• Meeting Seminar & Conference
• Distant Learning
• Recruitments
• Training
• Telepresence solution

Security & Surveillance
• CCTV
• Access Control
• Video Analytics

System & AV integration
• Board Room Solution
• Digital Signage
• Video Wall