| | |
| --- | --- |
| Solution » Enterprise Communication » | Voice Logger |
Voice Loggers a business requirement
Business interactions and transactions over phone call have grown tremendously over the past few years, and are growing day by day; it is becoming business requirement to record and document interactions. Depending on the nature of your business, you may have a requirement for maintaining call records such as order booking, payment collection, complaints, policy compliance, quality assurance, government regulations, contention resolution, process evaluation, data mining and personnel training that are conducted over phone. These conversations are important for your business and it is often required to record such calls so that the same can be referred in future.
Stores voice data in any format & saves storage Cost
A Voice logger is an integral part of communication system. It is an important tool for recording interactions between contact centre agents, supervisors, and managers on one hand and prospects, leads or customers on the other. With voice compression and multiple-format recording you can store voice data in any format and save on storage costs.
Offers comprehensive functionality including customisation but extremely user friendly
Our Voice Logger solution is user friendly, easily installable and of low maintenance which can be integrated with any communication system and is ideal for any business that demands comprehensive functionality and customization. Designed to work seamlessly with Predictive Dialler, IVR (Interactive Voice Response) and ACD (Automatic Call Distributor) solution, it is perfect for contact centres or enterprises those need an end-to-end solution, or just a standalone voice recording solution that integrated with their existing setup.  The solution maintains highest quality standards with features like 100% automatic recording ensuring complete interaction on both the agent, as well as the trunk side is recorded.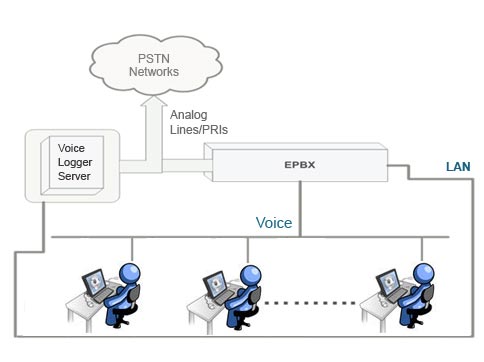 Intimates when low on storage space
The distinguishing feature of our voice logger is its ability to internally compress a record by eliminating silence, pauses or DTMF inputs and other sections of a record that take up unnecessary space. You never have to lose a record or run out of space. Our logger will notify when you are running low on storage so that you never run out of space and lose the record.
Feature rich
Multimedia operations allow you to rewind, forward, and replay the conversations for swift information retrieval. With the user-friendly CRM, you can perform all file operations with the click of a button. You can also search through records by lead ID, agent, disposition, and other parameters for quick retrieval. The interactions can also be downloaded from the interface itself. Additionally, you can download recorded conversations remotely via a web browser.
Restricts access to confidential information
Strong security features curb unauthorized access of confidential voice records. Only supervisors, managers or quality analysts have access to voice records by default. However ,you may give access of voice records to specific agents by configuring  security settings accordingly and changing access levels for agents.
Solutions